Editorial contact:
Miles Parker and Lynn Manning, Parker Group
team@parkergroup.com
+1 (401) 272-1510
DFMA Supporter of the Year Awarded to Hypertherm's Charlie Hackett at 2018 Boothroyd Dewhurst International Forum on DFMA®
WAKEFIELD, R.I., USA, September 25, 2018 - Highlighting its conference theme of Global Competitive Advantage, Charlie Hackett, leader of Corporate Improvement at Hypertherm (NH) received The Distinguished DFMA Supporter of the Year award from Boothroyd Dewhurst, Inc. The Award is offered annually at the Boothroyd Dewhurst International Forum on Design for Manufacture and Assembly (DFMA®) and acknowledges people and teams that work together in exceptional ways to improve products and educate others in industry.
"Charlie Hackett is a member of an outstanding company that for years has set a world standard for product, process and management excellence," said John Gilligan, president of Boothroyd Dewhurst, Inc. "Hypertherm has continually set the bar nationally, as a top employer recognized by Forbes magazine and as a manufacturer with a high percentage of products made domestically for export. Their benchmarks in product quality, serviceability, performance and labor productivity are frankly difficult to match—and Charlie is a key driver of change and education in that environment."
The Forum was held in Providence, RI, September 11-12, and is the foremost conference worldwide on DFMA methodologies and software for product simplification and early costing. DFMA software helps engineers quantify manufacturing and assembly costs beginning at the earliest stages in development to reduce part count and labor, increase assembly efficiency, and benchmark competitive designs and materials. The resulting savings significantly reduce product development cycle time and reverberate down the supply chain from design through manufacturing and beyond to shipping and end-of-life.
Notable achievements, presented at this year's Forum, were:
BAIC (Beijing Automotive Industry Holding Co., Ltd.): For a middle-pole frame structure associated with the grill, engineers used DFMA to reduce part count by 67%; manufacturing time by 76%; manufacturing cost by 30%; and weight by 24%. The goal at BAIC is platform standardization among different vehicle models to reduce overall development and vehicle complexity.
Endress & Hauser (instrumentation and process automation): Redesigned seven projects for a ten-year savings of one-million per year, or 10-million dollars total across their combined use-cycle of a decade.
Raytheon (Aerospace, Defense, Civil Government and Cybersecurity): Has achieved a 31% average cost savings on 500 products/parts using the DFMA methodology integrated with Lean and Continuous Improvement programs.
Dynisco (Control and analysis instrumentation for plastic extruded process equipment): Improved ease of assembly on a product that saw a 12% reduction in parts and 19% reduction in assembly time, while also increasing features and functionality on the upgraded LMI 5500 model that is derived from an existing product line previously analyzed with DFMA.
"Our focus at Dynisco and other units within Roper Technologies is to use DFMA at the conceptual and detailed design phases," said John Biagioni, president of Dynisco. "This helps us to properly stage our businesses for downstream efficiency and, ultimately, to meet 'order-to-cash' goals. DFMA impacts the demand-fulfillment chain, helps with material liability, production floor and supplier strategies, and lowers service and warrantee exposure. The methodology and software start their work in engineering but go on to address every manufacturer's C-Suite business objectives by eliminating waste and optimizing profits."
"Manufacturers compete and share supply chains globally as never before," said Gilligan. "Whether companies are aiming for improved domestic content or have a Build-Where-You-Sell strategy, DFMA can help them improve cost, quality and product performance in any market."
DFMA® is a registered trademark of Boothroyd Dewhurst, Inc.
About Boothroyd Dewhurst, Inc.
Boothroyd Dewhurst, Inc. was the first company to commercialize Design for Manufacture and Assembly (DFMA) methodologies and software tools, which make it possible to evaluate, estimate, and reduce the manufacturing cost of a product in the design phase through product simplification and cost estimation. Hundreds of Fortune 1000 companies, including Dell, John Deere, and Boeing, use DFMA to cut the costs of their manufactured products and achieve design innovation in their markets. The company was founded in 1983 and received the National Medal of Technology Award in 1991. For more information about DFMA software, workshops, consulting services, and international conferences, contact Boothroyd Dewhurst, Inc., 138 Main Street, Wakefield, R.I. 02879, USA. Tel. (401) 783-5840. Fax (401) 783-6872. Web site: www.dfma.com. E-mail: info@dfma.com.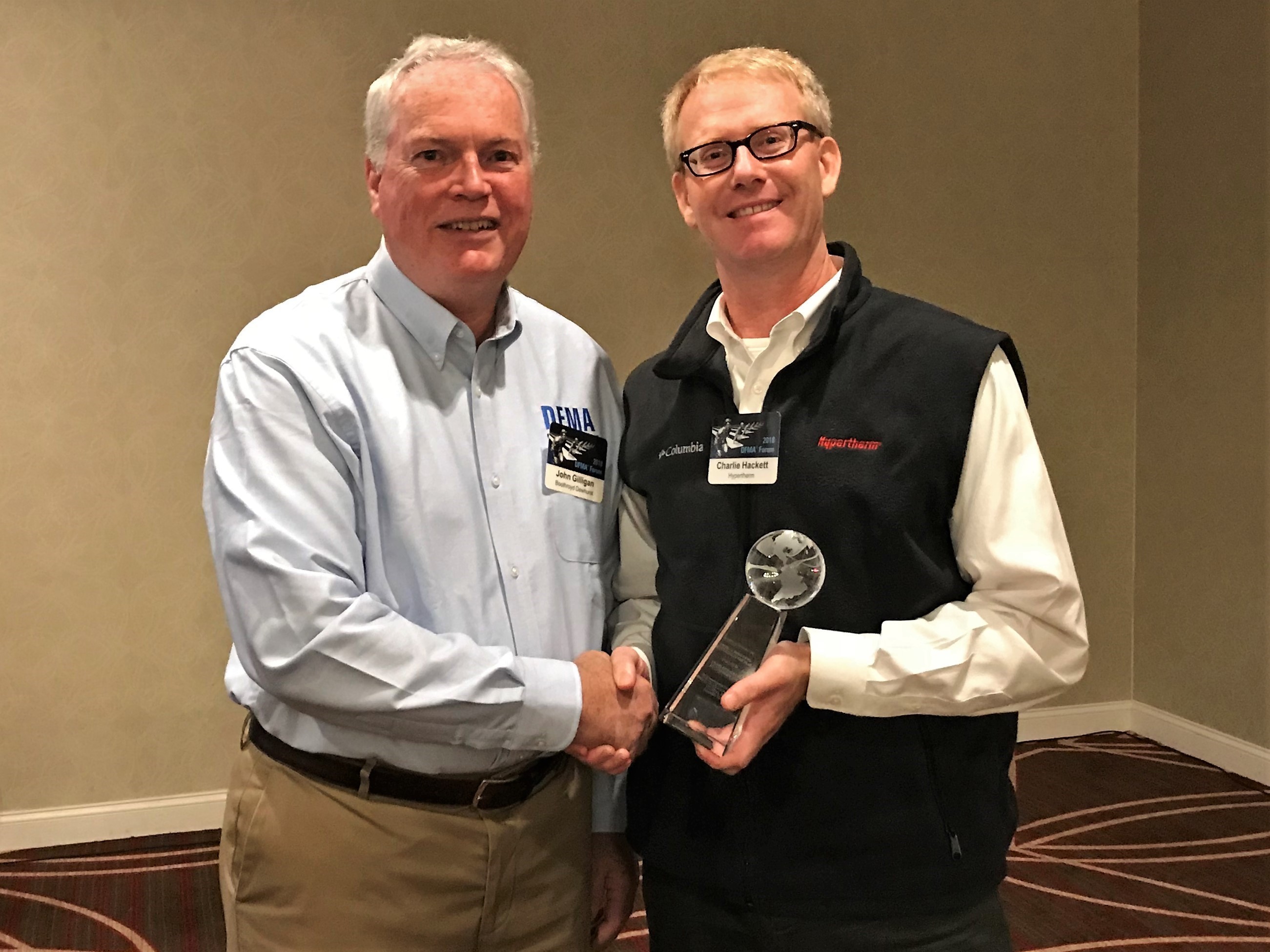 John Gilligan (left), president of Boothroyd Dewhurst, Inc. congratulates Charlie Hackett of Hypertherm (NH) on receiving the 2018 "Distinguished DFMA Supporter of the Year" award. The announcement was made at the 33rd annual Boothroyd Dewhurst International Forum on Design for Manufacture and Assembly held in Providence, RI, USA at the Omni Hotel.